What does the curriculum contain?
This course leads to a diploma recognised by the Hospitality industry.  During the course as a Professional Chef you have practical classes once a week at the Horeca Academie. The rest of the time you spend working in a kitchen as an apprentice chef. For the whole year you will attend a special apprenticeship program in a restaurant. At the Horeca Academie, all our courses have been developed in close collaboration with the industry. Our teachers are professionals from the industry. We are committed to innovation and stay on top of any new developments in the culinary industry. At the Horeca Academie our curriculum contains mainly a hands on and practical approach.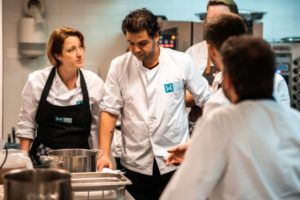 Throughout the 10 months tuition, you attend classes once a week. Always the same day in the week, so this does not affect your apprentice schedule.
The classes are threefold.
1. Restaurant class: You cook for our guests in the Horeca Academie restaurant. This is a three-course meal based on the themes of the curriculum.
2. Cooking-Lab class: Again you cook, this time not for guests, but to explore and to experiment with the products that fit the curriculum theme. You start this class with examining the product table. What is it? How do I keep it fresh? What can I do with it?
3. Immerse knowledge class: any subject that needs a little bit more attention is handled in this class. Subjects like special allergies or hazard analysis critical control point (HACCP) are being treated in the immerse knowledge class.
Subjects
Cooking-and basic skills
Product knowledge
No-waste
HACCP (hazard analysis critical control point)
Planning and organisation
Preparations (Mise-en-place)
Communication
Kitchen interior and organisations
Plating dishes
Key information
Duration:
10 months | 40 classes (one class a week) + apprentice program 20 hours a week (minimum)
Price:
€3650,- (payment plan € 365,- per month for 10 months) Diploma fees include: ingredients, uniform,  learning materials/books.
Hours per week:
Classes: Approximately 8 hours (standard)
Apprentice program: Approximately 20 hours (minimum)
Subsudie: For this course, apprentice companies cannot claim a subsidy for practical learning.
Entry requirements:
High school diploma or equivalent, evidence of comprehension of English language. No prior culinary experience is required. All students must be aged 16 years or over. The intake process of the Horeca Academie contains a standard test (English basic) and possible motivation interview.

Who is this program for?
We welcome students from a variety of different educational and occupational backgrounds. No prior culinary experience is required. This programme is suitable if:
You wish to enter a career working in a professional kitchen (restaurant or hotel).
You do not have to be a native English speaker. If you can understand an write English to the amount that you can be educated in this language, that is enough to start the program.
You are a professional chef or entrepreneur and wish to learn French culinary techniques and become a classically trained chef.
You are willing and capable to enter the apprentice program in a restaurant. You have found a restaurant where you can start as an apprentice chef.